National Olympic Sports Center
GREAT GYMS
---
There several gyms, maybe four or five. We will have two or three of them at our disposal, for practice, hanging out, and the like. The hosts understand quite well that the "convention", not just the competition, is important and will provide facilities that will have little or no time restrictions.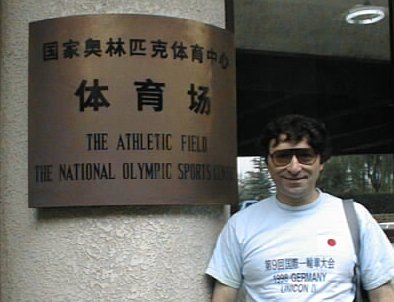 The Main Gym
This is the main gym, where probably most competitions should be held. It is huge -- 50 by 70 meters -- and has plenty of seating space for the audience. The hosts expect the gym to be filled with a large audience, especially for the artistic events and basketball and hockey finals.
Don't expect to see much here. There were no lights when I took this picture. In fact, few places keep lights on during the day in China. But trust me, it is a great gym.





to Great tracks