Dictionaries
Guide
Overview
NJECD
Learner's
Electronic
iOS
Order on line

Websites
KDPS
Who is KDPS
CDPS
Jack Halpern

Others
Yiddish
Languages
Humor
Unicycling
Links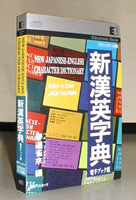 New Japanese-English Character Dictionary
Electronic Book Edition
(no longer available)
---
In 1995, Nichigai Associates published the long-awaited Electronic Book edition of of Jack Halpern's the New Japanese English Character Dictionary, which has become a standard reference work and has enjoyed the praise of renowned scholars and learners throughout the world.


A major feature of the electronic book format is the speed and facility with which entries can be looked up. Although we have departed from the traditional method of ordering characters, we have not overlooked the needs of the traditionally oriented user. You have a choice of a multitude of search methods that can be combined with each other for maximum speed and flexibility.

Pattern Index: The Pattern Index based on theSKIPlets you locate entries effortlessly by selecting patterns and subsection numbers from a menu.
By reading: Searching by reading is case insensitive and does not require a knowledge of whether the reading is on or kun. Of course, readings can also be located by wordend search or by combining with other criteria such as character meanings.
by their traditional radicals.
By meaning: You can locate a character by specifying its core meaning, or any word or phrase included in any character meaning. Since you can combine meanings with readings and SKIP numbers, it is very easy to quickly narrow the search to the character you want.
By Compounds: You can quickly locate any compound or example by specifying its meaning, reading or characters that it includes. This allows you maximum flexibility in locating compound words instantly.
Kanji Thesaurus: Another unique search method allows you to locate a character from semantically-classified groups. You locate a headword from an alphabetical list, then select your character to get immediate access to its main entry. You can easily jump back and forth between the main entries for each group member, giving you a full understanding of their subtle differences.